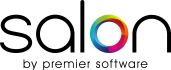 Version 3.2.1
Friday January 12th, 2018
Version 3.2.1 of Salon by Premier contains a number of improvements that will enhance your use of the software.
Features
Emails and Marketing
We've made a lot of changes to the email and marketing functionality in this release. You can now create multiple booking confirmations – tailored to you – including images and document branding that really lets you get your message out to your clients, your way.
When configuring your email, the software now accepts very long email passwords that were previously incorrectly shortened, and when sending marketing messages, if no invalid addresses are found then the software automatically switches to the valid list, saving you a click.
Within the Marketing suite, we've also made sure that if you select the "Appointment Display Status Type" section, that the marketing run doesn't fail.
Fixes
We've also made sure that a few bugs were squashed:
Software licenses are reused when appropriate, allowing you to continue working for longer
Client Details (email address, phone number, etc) are now hidden from the user's view if they don't have permission to see them on their user profile
On the client card the client details (name, address, reference number etc) are no longer cut off on the right hand side
The client dashboard has been improved so that it loads faster. We've also reduced the amount of flicker when transitioning between screens
The "Staff Hours Analysis" report was missing "Internal not worked time" – this column is no longer absent
Clients who have received a patch test no longer fail to be deleted when using the Client Delete function
Crashes no longer occur when a long (19-20 character) customer reference is entered
There should no longer be a random crash when closing the application at certain points (for example, hitting the [x] button when in the Client Card)
Users on Windows Remote Desktop connections should no longer see lengthy hangs in the software when moving internal appointments around the diary in certain situations