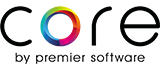 Version 2.8.0
Friday January 12th, 2018
2.8.0 is a feature release that adds some new functionality and addresses a number of issues within the Core by Premier Software and College by Premier Software applications.
New Features
Within Online by Premier, the "Enforce Payments" option has been added for Packages, Group Activities and Facility appointments.
MONEK Payments

You now can make MONEK payments via Online, following the introduction of the same method within Core in the 2.6.0 release. This is enabled within the "Gateway Setup" section within the Configuration Portal (Online Configuration Portal > Payment Gateway > Gateway Setup).

Remember to press the "Save Changes" button which will then show you the gateway settings: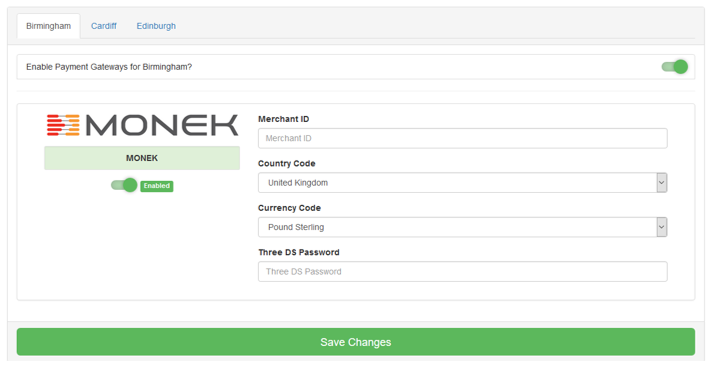 Here, enter your Merchant ID, select your Country and Currency Code, and – if required – enter your Three DS Password. Save the changes and you are ready to take payments!
Improvements
The following improvements have been made to the software in this release:
The Fast Track application will no longer accept empty scans, and so not identify "ghost" clients
The Arrivals and the Departures screens have been tweaked for better performance when loading
Repeat booking appointments could fail to show on the arrivals screen – this has been prevented
Successful Virtual Terminal payments incorrectly caused a card authorisation information dialog to be hidden in the background – this no longer occurs
Certain reports failed to correctly connect to the database. This has been resolved
Deleting certain clients no longer causes an error
The Membership Payment Report and Mail Merge no longer show varying amounts
On-account direct debits no longer show as a Membership Payment on DD confirmation
Users on Windows Remote Desktop connections should no longer see lengthy hangs in the software when moving internal appointments around the diary in certain conditions
A PC Location marked as inactive can no longer log into the system
The Repeat Booking function now ignores inactive staff members during calculations
It's no longer possible to book a client for a group activity on the same day that they have a reservation booking, and that group activity not become part of the reservation
Saved Marketing jobs that include specific staff members no longer cause a generic failure
You can no longer adjust the configuration of a room if that room is part of a twin room and has future appointments booked in it
Linked appointments no longer fail to have the reminder sent if the second appointment is moved
The Most Popular Appointments report no longer incorrectly calculates the "GoodsValue" and "TotalValue" amounts by excluding certain bill lines
Clients on a reservation that are arrived for any group activity on their reservation via the dedicated group activity arrivals screen, no longer go missing from the departures screen
When performing a manual refund for an appointment, changing the staff member no longer causes a crash
The Amend Receipt function no longer crashes if the receipt has items that were subject to an automatic discount, and that discount has been manually overridden; nor does changing the payment method cause a crash now
Users that lack the "Make Available Times" permission can no longer move or resize Not Available blocks
Departures don't cause a crash if "Use Price at Time of Booking" option is enabled and no price was recorded on the booking due to a lack of an active price structure
Creating an AUDDIS file will now warn the user if no settings have been assigned or the process cannot be completed
Amending a booking within a twin room for a single client will no longer cause a crash
Moving appointments from the clipboard will no longer remove the staff member assigned when checking the staff member's RSI allowance
Checking "Receive Appointment Reminders" within Members setup will now save the changes made
Setting a Staff Rota's End Date before its Start Date is no longer possible
Staff can no longer have rotas that overlap
Changing the update type to "selection" on the Members Listing Report will no longer show no items to select
Inactive Membership Types will no longer prevent a membership cancellation
Report booking appointments will now have the correct pricing details at the time of booking the appointments
Bills will no longer fail to complete if the user removes the price of a bill item after changing the reason to "MGR_OVR"
Refunding appointments via the Client card will now process the bill when selecting 1 item from the bill selected
The SMS Originator field in SMS Settings will only allow for alphanumeric characters to be entered
Performing a manual refund on a stock item and not returning the item back to stock will no longer prematurely end the refund process
Redeeming a course item will no longer bring back the remaining value of the course if the course has both appointments and facility appointments assigned
Scheduling reports will no longer crash due to assigning too many search criteria
Paying for appointments with course redemption that have also been assigned automatic discount no longer causes a crash
Refunds of group activities are now visible on the Income Centre Overview report
Departing a package that has Automatic Pricing apply no longer causes a crash
Future paying a Group Activity that has Automatic Pricing apply no longer fails to process the bill
Future Business Overview report now shows the correct number of appointments if any packages have appointment selections assigned
Medical questionnaires now have signature functionality
Standing Order printing has been restored
Whilst performing a payment via the Monek Payment Terminal the user can no longer cancel the transaction on the software if the terminal is busy
Booking additional appointments on a reservation within in a twin room will no longer cause a crash if no staff are available
Moving twin room appointments will not incorrectly complete if the room is not available
Searching for mail order items will now ignore any trailing spaces in the search text and so will find the expected items
Changing appointments to a reservation item will no longer apply inflated discount to the appointment price
In Online by Premier, appointments and group activities that are part of a reservation are now identified with an information button
Staff members will no longer be missing from Online on the last day of their rota
Web booked facility appointments will show the facility appointment description against the bill line item
Clients viewing their appointments on the website will see all scheduled appointments including appointments currently being processed
Web Booked Package Payment Status report can now be viewed in the application
Web booked appointments/facility appointments that have been paid and then assigned to a package will no longer require additional payments
Web Booking Activity Report now shows reservation additional appointments and facility appointments
Online reservations no longer get double discounted when the client has automatic pricing apply to them
Automatic discounts (via a membership) now apply when the member books appointments online
Online Maintenance process now has a minimum start time of every 5 minutes down from 15
Web booked packages can now be deleted on the website if no package deposit has been paid
For users of College by Premier:
The following issues are resolved:
The Lesson Booking Timetable no longer permits an empty value in the "Number of Columns" field
Lesson Booking no longer crashes when copying specific timetables
The following new feature was added:
The Clipboard functionality present within Appointment Booking has been added to Lesson Booking, so moving lessons around should be easier!