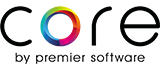 Version 2.6.1
Friday October 20th, 2017
2.6.1 is a patch release that adds some new functionality and addresses a number of issues within the Core by Premier Software and College by Premier Software applications.
New Features
Discounts Given Now Visible on Enhanced Receipts
Enhanced receipt types, such as those featuring a second language (for example Arabic) and A4 receipts will now show any discounts applied to the bill. This brings them in line with standard receipts.
Diary Auto Refresh
The diary will now refresh on a regular basis, to update the view with appointments made, or being made, on other computers.
Improvements
The following improvements have been made to the software in this release:
Access to clients' patch test details can now be controlled by password profiles.
The formatting of the On Account email has been enhanced to improve legibility.
The On Account Direct Debit payment has been improved to allow annual paying members to use this facility and the wording of the send email process has been improved.
Items that had been on account, but had been paid for via Direct Debit were still showing on the client's record, but with a 0.00 value outstanding. This is no longer the case.
Credit card details added to appointments were not previously saving. This has been corrected.
Facility appointments were showing multiple times on clients' online accounts. This is no longer the case.
If the system exited improperly whilst processing a voucher sale, the voucher was still created as normal. Vouchers where this had happened were treated as normal on the redemption screen. Now, the system will ask if the voucher is to be honoured.
If an appointment is being amended on one PC, it now can not be departed on another until the amendment is complete.
Previously, if a package type had an end date set, it could not be booked on the last day. This has now been changed to allow booking on the end day.
It was possible to experience an error when completing a medical questionnaire. This is no longer the case.
 If a client's card was flagged to not receive on account statement emails, this was being ignored. This has been corrected.
After a certain period, automated services would cease to run. This is no longer the case.
Inactive staff members were appearing on the waiting list. They are now filtered out correctly.
If a client had an alternative bank set up for on account processing after they had had an AUDDIS run processed, they could be excluded from the On Account Transfer process.
Items with a value of 1p, 2p or 3p would not appear on account. They will now show correctly.
If a client had a message on their card that was set to clear on arrival, Fast Trak would not remove the message. It will now clear it as appropriate.
Ticking or unticking the option to email clients account statements was not persisting. It now does.
It was possible to create overlapping staff rotas for an individual staff member. This is now no longer possible.
On the Non-Stock tab in Marketing, the dates were being ignored. The Marketing selection will now properly apply the dates.
When performing Repeat Booking, the Non-Arrivals alert was not being activated where appropriate. This has now been corrected.
Custom dates were not working correctly in the Till Membership Payments report. They now do.
If a discount reason code was applied to an additional treatment on a bill, it could prevent the bill being processed. This is no longer the case.
It was possible to create a situation where an appointment booking would request a room, despite there being no room requirement. It is no longer possible to create this situation.
Stock Categories on Stock Reports were not populating correctly. All Categories now show as they should.
It was possible to experience a discrepancy between the Membership Payments report and Membership Payments mail merge, as a result of due and paid dates being filtered incorrectly. This has now been corrected.
When selecting the paid date filter in the Membership Payment report, unpaid membership payments were showing. These are now correctly filtered out.
The Payment Due date has been added to the On Account Statement.