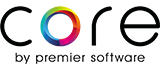 Version 2.5.8
Tuesday September 05th, 2017
2.5.8 is a patch release that addresses a number of issues within the Core by Premier Software and College by Premier Software applications.
Improvements
The following improvements have been made to the software in this release:
When entering the tilling screen for a saved bill, the save bill button was disabled. This is now no longer the case.
The amount of stock on order is now being populated on the Stock Valuation report.
Columns on the Discounts Given report have now been increased in width to allow the information to be properly displayed.
A resident client with multiple appointments on the same day will no longer become invisible to the departures screen if only one of their many appointments was departed.
The "Not Available" appointment type can no longer be dragged around the diary, preventing issues with shading being replaced in error.
If a Web Booked appointment was not arrived, and an attempt was made to charge for the non-arrival, the system could close unexpectedly. This action now works correctly.