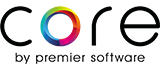 Version 2.5.5
Friday July 21st, 2017
2.5.5 is a patch release that addresses an number of issues within the Core by Premier Software and College by Premier Software applications.
Improvements
The following improvements have been made to the software in this release:
Re-printing a receipt via the client card no longer causes a crash.
Redeeming the last item in a course – where the number of items in the course has changed since the initial purchase – now correctly prices the final item.
Within reports, the "selection" screen for sites and business areas didn't include any items – this has been resolved.