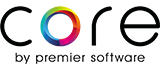 Version 2.5.2
Wednesday June 21st, 2017
2.5.2 is a patch release that adds some new functionality to the software and addresses a number of issues within the Core by Premier Software and College by Premier Software applications.
New Features
Arabic Receipt Printing
A new feature has been added to Core by Premier Software and College by Premier Software that allows you to print bi-lingual receipts (initially we support English and Arabic). We originally published this functionality in the 2.5.0 release, but have since been back to the drawing board to enhance this functionality, effectively re-writing it. We've dramatically improved the performance when printing receipts, and we've also added the Staff Member name(s) to the enhanced and A4 receipts, to mirror the functionality already available on the "standard" receipt.
To facilitate this new version of the functionality, we've introduced the ability for you to upload your own logos to the software instead of having them uploaded to the printer. This allows different PC Locations to print different logos. We've also extended the text fields in the header and footer sections of the receipt to be 100 characters in length (up from 40).
To enable this function, first select "Arabic" in the "Dual Language on Receipt" option in Site Settings > Tilling Options, as shown below:
Also here, you will notice the new "Enhanced Receipt Logo" area, offering three new options:
Upload a new logo
View the existing logo
Delete the existing logo
Use of these options sets a site-wide logo; if PC Location specific logos are required, these can be overridden in the next step.
Enabling the Enhanced Receipt
In the "PC Locations" screen, tick the "Enhanced Receipt" option (highlighted in the screen below). Be aware that like the A4 receipt, this always prints to the Windows default printer.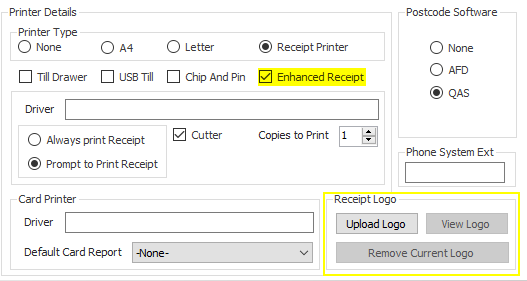 Also on this screen, you'll notice the new "Receipt Logo" options. These allow overriding the site default on a per-PC basis, if desired.
Daily Maintenance Service

As part of the Premier Automation Service contained within all Core/College by Premier installations, we have added functionality to ensure that certain maintenance tasks are completed automatically. This means that from now on, when you set an item to have an end date and that end date passes, the system automatically sets the appropriate inactive status. Likewise, if you add new items with a start date in the future, they are added as inactive but you'll see them become active automatically when that date is reached.
Improvements
The following improvements have been made to the software in this release:
Packages containing a selection of Couple's treatments no longer fail to identify the second client at scheduling time
Standardised the use of inactive items on reports, so that historical information for items that are no longer active is not excluded
You can now enforce that a member must have scanned into an entry point (or been arrived through Membership Arrivals) before they are allowed through an internal door
Reservations Made Report contains a new "Total per package per site" section on the Package Totals
Items with start/end dates are now activated/inactivated when the date is reached
Equipment is no longer set as inactive at Enterprise level when being made inactive at a single site, and vice-versa
Issues obtaining details for client visits that prevent the Schedule Print from being produced will no longer crash the application
Web-booked appointments that have been dragged around the diary to reschedule no longer become impossible to depart
When entering Sort Codes (within Banking Details) it's no longer possible to enter an underscore character that is incorrectly treated as a space
Many instances of clients being unable to be departed once arrived have been resolved
Reminders are no longer sent for appointments in the past, if a client's details are updated to include an email address or mobile phone number
Site B booking a linked appointment for Site A no longer causes a crash
Removing all members of staff from an internal appointment type will no longer crash the application
It's no longer impossible to book internal appointments in a twin room if the appointment has no default length
When booking a Next Link appointment, the staff selector drop down no longer contains inactive staff members
Group activity appointments booked as part of a selection on a reservation are now displayed on the appointment review screen
Adding details for a credit card when the card type is blank no longer crashes
When merging clients (i.e. resolving duplicates added via an interface like Reslynx), the third party reference is no longer lost
Cancelled facility appointments are no longer incorrectly identified as chargeable
When sending payments across an interface (such as Hotel Perfect), bill child lines are no longer incorrectly posted if the reservation deposit has been paid
When cancelling a reservation via a Hotel Perfect interface, clients are no longer incorrectly left as active after the cancellation completes
Within Marketing, the "Birthday in next x days" field incorrectly identified clients with birthdays exactly x days away (e.g. setting the value to "2" would find clients with birthdays two days from now, not one or two); this now correctly identifies dates within the specified range
Till membership payments can no longer have more allocated than the actual payment taken
Projected revenue no longer incorrectly creates 13 month periods when the membership spans an exact year
The SEPA file produced from Core now no longer contains header rows longer than the specified maximum
The Membership Update screen no longer allows you to continue when the date fields are blank
Core no longer crashes when the payment amount field (within Payment History details) is cleared
A duplicate package code can no longer be added to a package
You can no longer create overlapping package availabilities in the Packages screen
Voucher reports have been improved to be significantly faster, particularly when there are a large number of vouchers in the system
The Projected Revenue report no longer truncates the "per month" fields
The Web Booked Package Payment Status report now includes VAT in the figures quoted
When the Membership Status Summary is automated, it no longer always runs with the same date as the date it was originally scheduled
The Scheduler Activity report (both in detail or summary mode) no longer fails to include all users if a large selection of users was specified
The discrepancy between the Client Items On Account and Client Items On Account Statement Run reports has been resolved
Stock Valuation Report no longer crashes if "Group" option is enabled
Stock Sold Reports no longer shows refunds as a positive number
Resizing appointment lengths during reservation booking can no longer create zero-length appointments
Facility appointments no longer incorrectly show the additional deposit as zero on reservations
When departing a reservation with more than one guest, the deposit is now correctly shown for all guests not just the first
The application will no longer crash when trying to add a new stock item, if two sites have the same site description
Retrying an Ocius payment after it was cancelled no longer causes a crash
Appointments with automatic discounts are now refunded correctly when they were future-paid
Course redemption values could previously be left with 1p still to be claimed due to a rounding error
End-of-Days are no longer incorrectly marked as the last EOD prematurely when a specific sequence of events occurs
Changing the discount applied to an item that has already had automatic pricing apply to it no longer crashes the application
When future paying Facility Appointments or Group Activities that have been assigned an automatic pricing discount the bill screen now shows the correct price
Stock items can no longer be made inactive despite being in stock
The very first patch test performed in the system no longer causes a crash
Medical details are now displayed when you click the appropriate button (when required) during the arrivals process
If you use College by Premier, the following improvement also applies:
The "Book Something Else" button no longer causes application crashes within Lesson Booking
Appointments no longer get stuck on the clipboard if there is no overlap on the destination timetable with the one the appointment was taken from