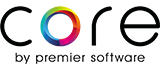 Version 2.4.1
Thursday November 17th, 2016
2.4.1 is a patch release that addresses a number of issues within the Core by Premier Software and College by Premier Software applications.
New Features & Enhancements

Client Card Print Options
The remaining options on the client card print are now enabled: Medical Details, Items on Account, Recommendations, Product History, Contact Log and Membership Payments:

Membership Invoice
It is now possible for Premier Software to customise the Membership Invoice to your needs. If you need the margins increasing to allow for printing on a letterhead, or would like your own logo on the invoice, for example, please contact our support team.
Patch Testing Options
It is now possible to make the new "patch test" warnings optional in line with the other "message board" options. This can be configured in the same way in "Site Settings" > "Information board":

Loyalty Points in Marketing Export
A new column has been added to the marketing CSV export – Loyalty Points.
Loyalty Points Report
A brand-new report has been added, detailing a client's loyalty points activity – earning and spending. The new report is called "Loyalty Points" and you can find it under the "Deposits/Redemptions" group:

Please note: you may need to assign the new report to your user profiles (using the "User Profiles" screen) before you can see it in the Report screen.
Improvements
As well as the above features, the below improvements have also been made to the software:
It is now possible to update the notes on existing associations in Administrator and Manager. New associations can only be made in Reception.
Fixed a crash at time of departure when a staff member used for an appointment didn't exist at the time the pricing structure used by the appointment was created.
Fixed a crash at time of departure when "use price at time of booking" is turned off, and the pricing structure used by the appointment had ended.
Fixed an issue that may cause duplicate appointments to show on a schedule print.
Till membership payments are now allocated to the site the payment was made at, instead of the site being used to allocate the payment.
Fixed the Client Items on Account report to correctly take account of items that have been part-paid.
Fixed an issue that causes Reception to hang when cancelling out of creating a new reservation when the "autogenerate reservation reference" option is turned off.
Using the bulk-departure functionality for a group activity now correctly allocates loyalty points to clients, and assigns the receipts as "client sales" instead of "till sales."
Scheduled reports that don't require a date parameter are no longer scheduled with one, preventing inaccurate scheduled reports being sent.
Performing a membership update on a Corporate membership now updates the expiry date of members being paid by that Corporate membership.
Performing a "new" membership update on a Corporate membership now correctly retains the linked members, ensuring they are still linked to the correct membership.
Fixed a crash when editing a previously-saved marketing list.
Patch tests can now be added for a previous date instead of being restricted to "today." This allows recording of patch tests when the actual test was carried out on a previous day.
Creating a new site using the "copy site" functionality now copies over patch test configurations.
Improved performance when entering the diary screen.