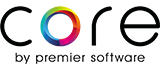 Version 2.4.0
Friday October 21st, 2016
All Core applications now have a brand new image! Look out for the new look icons when your system has been updated.
(Left-to-right: Administrator, Configuration, Manager, Call Centre, Reception.)
New Features & Enhancements

Patch Testing
You can now create patch tests and assign them to appointment codes. Patch test results can also be recorded on client cards and the application warns or blocks appointments from being booked when a previous patch test has failed.
Repeat Booking
There is a new option on the main menu of Reception to allow creation of multiple appointments (repeat bookings) in a single action for a client. Currently appointments are supported, we are working on adding support for group activities and lesson booking (College.)
Include appointment times on reservation documents
There is a new option on reservation documents that allows you to optionally include the appointment times on reservation confirmations. This can be configured on a per-document, per-site basis.
Improvements to linked appointments
You can now specify what types of appointments can be booked as a linked appointment to another appointment code. There is a new tab on the Appointment Codes screen in Administrator/Configuration that allows you to specify the relevant appointment types that can be booked as linked appointments.
If you use College by Premier, the following new features are also available to you:
Copy lesson timetable
It is now possible to copy a lesson timetable
Clipboard in classroom bookings
The clipboard from Core's Appointment Book has now been included in classroom bookings. The screen layout has changed slightly to accommodate the new clipboard.
Change number of columns in a lesson
It is now possible to both increase and decrease the number of columns available in a given lesson. You can always add more columns to a lesson, and you can decrease only if there is still available space in the remaining columns.
Maximum number of booking of an appointment type in a lesson
It is now possible to restrict the number of bookings of an appointment type in a lesson.
Number of bookings in a lesson
A new column has been added to the lesson grid on the classroom bookings screen that displays the number of appointments in a given class.
Improvements
Automated reports stop sending after a period of time
Detailed security permissions (e.g. Change Default Subs Amount, Change Due Date) are now taken into account on the Membership Update screen in Administrator and Manager
When a user did not have the "Make Available Time" security permission, they could still resize available time in the appointment book
When clicking the Select All button in a reservation when a group activity was being amended
End of Day will no longer time out when it hadn't been run for a while
When a 2+ appointment type was changed to a single staff appointment
Booking an appointment that didn't have a length defined (or a length of zero)
The Reservations Booked report didn't show deposits that had been paid correctly when a reservation didn't have a package
The End of Day was not completing when posting to Hotel Perfect
Configuration didn't select the correct site (College by Premier)
When allocating a new appointment type to a lesson didn't always save correctly (College by Premier)